Cakeshop Media are delighted to announce a brand new partnership with grassroots football team Whitfield Juniors Football Club that sees us sponsor their Under 7s football kit.
This agreement has been in the pipeline for a few months now however the announcement finally came yesterday (Sunday 17th July 2022) at WJFC's annual presentation day.
The new team was created last year under the stewardship of managers Jamie Short and Ian Sullivan, and since December 2021 have been playing a number of friendlies against other youth teams including Margate Football Club, as they prepare for their first season as a team.
My son, Raef plays for the team so it was a no brainer for Cakeshop Media to offer support to Whitfield Juniors Football Club as the next generation of footballers begin their journey.
"As our boys prepare to get ready for their first season, we are very lucky and delighted to be sponsored by Cakeshop Media. A kit is essential to any football team and with this being the first kit at start of our footballing journey it's extra special"
"All the boys had huge smiles when we presented them their new shirts and the design and logo look fantastic. "A huge thank you from all of us to Cakeshop Media for the sponsor and support."
Jamie Short – manager of Whitfield Juniors Football Club Under 7s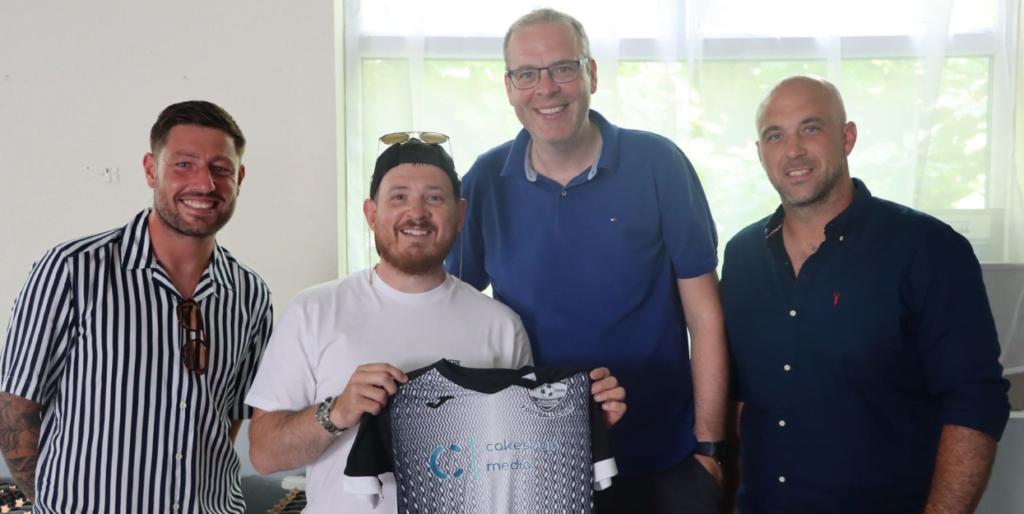 A keen footballer myself and having joined my first team at the age of 8, I can relate to how exciting it is to play football from such a young age but also to be involved in a team with likeminded individuals who just want to have fun.
This sponsorship announcement was part of our 2022 plans and a key part of our ethos to support grassroots sport in the area and Cakeshop Media look forward to following Whitfield Juniors for years to come.
---
About Cakeshop Media: digital marketing agency in Kent
Cakeshop Media is digital marketing agency in Dover, Kent that helps businesses increasing their digital presence through website optimisation, social media and content marketing.
Our other services including website design and build, TikTok, coaching and courses on digital marketing as well as offline marketing and asset printing.
To get in touch and discuss your business' digital requirements, pop us a message.