Cakeshop Media-sponsored Red Lion Football Club were the deserved winners of the Tom Donnelly Cup last Sunday (17th April 2022).
A bumper crowd of over 200 people saw the brave 10 men of Red Lion beat Premier Division Ash 5-3 after extra time.
I created Red Lion Football Club with my friends Lee Wakefield, Ainsley Jones and Ben Hughes during lockdown as a way to socialise and play football with our friends.
It was such a pleasure having our logo on our shirts as we lifted the trophy; it was the perfect end to our debut season.
The final took place at Tilmanstone Colliery Sports & Welfare Club on a hot Easter Sunday morning in front of family, friends and other Dover District Sunday League players.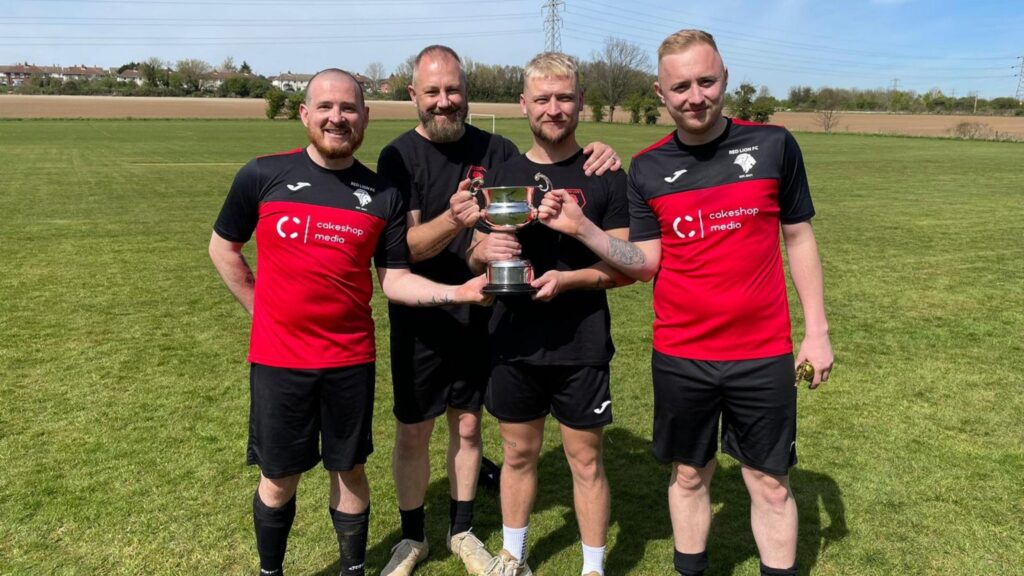 The first half
Red Lion got off to a fast, confident start as we awaited the arrival of two players minutes before kick off. Midfielder Ellis Keohane had to pick up defender Robbie Herbert from Ashford International train station after spending the night in London watching the Liverpool v Man City FA Cup semi final!
Fortunately they made it in time, as the first goal was scored by Ellis. A free kick on the far left hand side was crossed into the box where luckily nobody touched it and it nestled in the bottom corner!
Both teams continued to battle on a hard pitch as Red Lion went in at half time with a slender one nil lead.
The second half
The second half kicked off much the same way as the first with Red Lion dominating the ball and play before scoring the second goal of the game through winger, Matt Boxall.
A lapse in concentration saw Ash cross the ball over the defence to their unmarked striker who buried the ball home to make it 2-1.
Winger Boxall then got played in down the right and hit a fierce shot at the keeper who parried it into the air before Maslak tapped in to make it 3-1.
What followed next was a wacky final 15 minutes where Red Lion were denied a penalty and substitute Ben Hughes was sent off for foul language before Ash went up the other end and scored a tap in from a corner to make it 3-2.
With just a few minutes to go, the ball was cleared off the line by Red Lion captain Jordan Wolley before a late tackle from Herbert saw Ash earn themselves a penalty. It was made 3-3 due to a cooly taken penalty by the Ash striker and this is how the game ended after 90 minutes.
Disclaimer: the second half was actually timed at 59 minutes instead of the ruled 45 so both teams had in fact played 105 minutes of normal time
Extra time: first half
Red Lion (now with 10 men) controlled the first 15 minutes of extra time.
All our players battled through the heat and extreme tiredness to regain the lead thanks to a fantastic header from Maslak to make it 4-3.
Extra time: second half
The second half of extra time was timed at 23 minutes (again, ruled time is 15) and it began with an onslaught from Ash as they looked for an equaliser.
Fantastic organisation and teamwork from the whole defence and midfield led to the ball being cleared to the Ash keeper who, under pressure from Maslak, won it back and he lobbed the keeper from 25 yards to make it 5-3 to Red Lion.
Red Lion continued to battle for the final five minutes before the referee blew his whistle and cue mass celebrations as Red Lion became the first team NOT in the Premier Division to win the Tom Donnelly cup in more than 40 years.
Red Lion Football Club will go into the 2022/23 season full of confidence after such a big win and I'll be sure to keep you all updated with our progress!